07.13.2016
Hudson Pacific Closes on $311M Office Acquisition in Los Angeles from Blackstone Group, LA Realty Partners to continue leasing
by Randy Shearin
Western Real Estate Business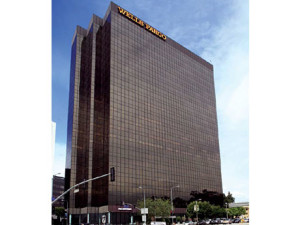 11601 Wilshire was built in 1983 and has 25 floors totaling 500,475 square feet.
LOS ANGELES —
Hudson Pacific Properties (NYSE: HPP) has closed on its previously announced $311 million acquisition of 11601 Wilshire Boulevard, formerly known as the Wells Fargo Center, in Los Angeles.
11601 Wilshire was built in 1983 and serves as the gateway to the Brentwood/Westside office market, with its location at the corner of San Vicente and Wilshire boulevards. The building has 25 floors totaling 500,475 square feet.
HPP bought the property from funds managed by The Blackstone Group. The building was 83 percent occupied at the time of closing. Blackstone bought the building in 2006 for $164 million, according to the Los Angeles Business Journal.
HPP plans to renovate and increase occupancy at the building.
"We intend to further elevate this asset within the marketplace, spending capital wisely to facilitate lease-up and create value for our stockholders," says Victor Coleman, chairman and CEO of HPP.
HPP is among the tenants in the building, where the REIT has had its headquarters since the company's initial public offering in July 2010.
To build capital for the acquisition, HPP sold One Bay Plaza, a 195,739-square-foot office tower in Burlingame, for $53.4 million in early June. The company also received $28.5 million in proceeds from the repayment of a loan known as the Broadway Trade Center Note. Additionally, HPP drew on its revolving credit facility and $150 million of funds from a private placement of 3.98 percent senior guaranteed notes.
HPP has a planned sale of a six-story office building at 12655 W. Jefferson Boulevard — known as Landing at Playa Vista — in the Playa Vista submarket. The proceeds of the sale will offset some of the acquisition costs of 11601 Wilshire.
Visit Story
FEATURED NEWS STORIES
OTHER NEWS